5 Axis Waterjet Cutting Services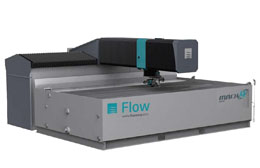 Our 5 axis Flow Mach 4 with dynamic XD head is the forefront of waterjet technology.


Advanced beveling with 60° of motion allows precise cutting of complex parts in 3D and sports a Cutting Envelope of   X= 157"  Y= 78"  Z= 8"  B= 360°  C= 60°
No Heat Build Up

Produces no Heat Affected Zone, no distortion or mechanical stresses.
Versatility

With 94,000psi cutting power we can cut virtually any material to net or near net shapes.
Fast Turnarounds

The Mach 4 technology allows it to cut up to 50% faster than conventional jets. We can use your CAD files for faster set up and turnaround.
Smooth, Precise Cuts

Cuts are accurate to within ± 0.003" repeatability of ± .002 and angles ± .5 degrees.
Reduced Costs

Precision cutting and "parts nesting" provides optimum use of materials, thereby reducing scrap and cost per part.
VIDEO
- Watch a video demonstration of our 5 Axis Waterjet in action!

Waterlet- Linecard
Sheet Metal Fabrication - Linecard